This will be a long post but bear with me, it involves a scam, an arrest and me being separated from my passport and bike by the Senegal river.
I left Steve early yesterday morning (thanks again for your hospitality) for the Senegal border and Rosso. Described by other travels in endearing terms such as the armpit of Africa and the most corrupt border in Africa. I have been dreading this day since early in my planning and on the ride down I felt like a lamb going to slaughter.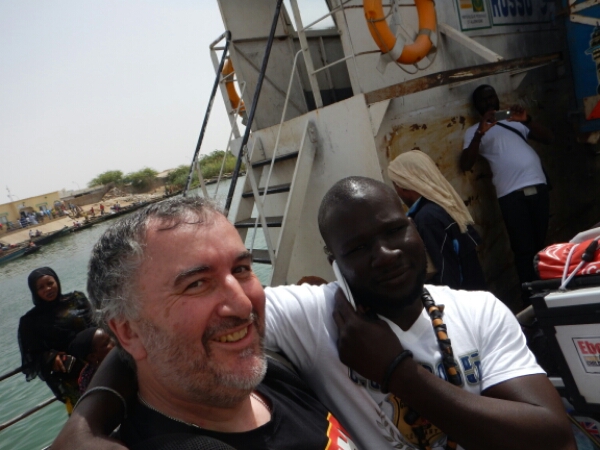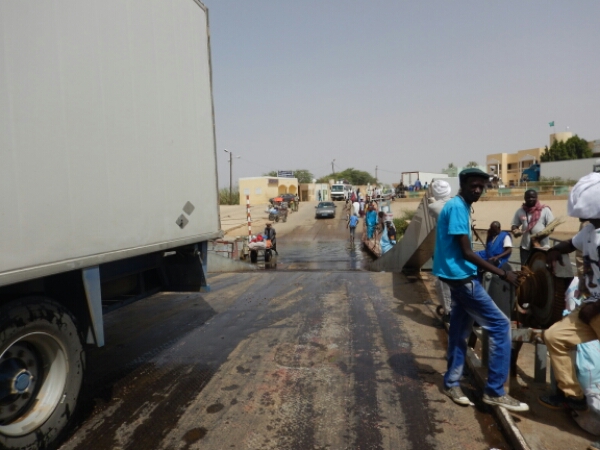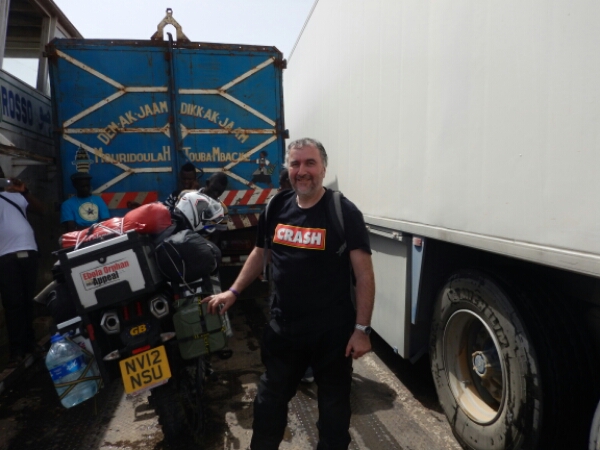 The morning started dodgy in that I was dodging potholes, goats, pedestrians, camels, other vehicles and cattle. My brakes had a thorough workout.
The real fun started about 10k from the border when a car came up behind me flashing headlights, he overtook me and tried to slow me down, i got back in front of him and sped up again. We played leapfrog like this about 4 times before he gave up. On the approach into town everyone seemed to be waving me down top stop. I was having none of it and carried on to the border gate.
Outside the gate a policeman asked for a copy of my fiche, a document giving personal and travel details. There was a crowd of about 20 around me by now, the policeman showed my fiche and gave my name to one of the crowd. From that point on everyone called for Monsier Barrett.
Then the gate opened and i was let through, everyone was telling me what to do and where to go. .. all at once and some giving opposite instructions. I tried to ignore them as best i could and parked up in what looked like a waiting area for the ferry. I had my crowd of 20 or so who had followed me through the gate. Everyone was talking at once telling me what to do so I just got off the bike and waited trying not to talk to anyone and when I did talk I just said I did not want help or hands off me or the bike.
About half of my followers left at this point, there were a couple of bigger blokes who were a little more persistent, these were obviously the top dogs in this food chain. I secured the bike then went to the police post with my documents, a few of the fixers were helpful but i was still trying to ignore them. A policeman was sat outside the booth and eventually he got up and offered to help. YES!
To be honest, he was helpful and at this point only 3 or 4 fixers were tagging along. He took me from placed to place: police, customs, local tax, ferry ticket ( river is the border) transit, insurance for Senegal etc. all requiring various fees.
Now the insurance I was quoted for 1 month was 59,500 mauritania currency, I did not have enough local currency for that so had to go to an autobank, which swallowed my card and never have cash, my friendly policeman got the bank managers help and eventually I had my money. I paid the insurance and at that stage was happy and my policeman was now mon ami.
By this stage only 2 fixers were left and mon ami said they would help me on the Senegal side. The ferry across was quick and easy and on the other side I handed over my passport for the visa application. The man who does it is at lunch and would be back at 3.30. It was now 12.30. We started the waiting around. This is when my fixers said how much did i pay for insurance. I told them and they said too much. That was about 160 euros and it should have been 10 euros. They were present during the transaction but they said they thought it was 6,000 I paid not nearly 60000. They wanted me to return to the Mauritanian side and demand my money back.
Now every instinct in my body was screaming scam!! I refused to cross back without my passport which was with Senegal visa application. I even said if they went back and got the money, they could keep half of it.
Half an hour later a man holding my passport came out saying there was a problem. A Mauritanian stamp was missing. Now this man had no uniform or id badge but he did have my passport which I last day on the hands of a Senegalese policeman.
He insisted i went back to get the stamp but would not give me back my passport. Stalemate!!
Now bear in mind what I was being asked to do. I was expected to get the ferry back to Mauritania, enter that country without a passport and leave bike in Senegal. But I had no choice.
Off i went with my two fixers, this time we went on one of the many passenger ferries, imagine a large rowing boat with an old outboard at the back. On the way over the fixer said we could get the money for the insurance at the same time. . Good, but I was convinced I would eventually be dumped in Mauritania without my bike or passport, never to be seen again.
Things got worse when one fixer took my vehicle registration ams went one way saying he would sort the stamp and the other fixer was trying to take me outside the gates to the border compound to sort the insurance. I asked a policeman at the gate saying i had no passport was it ok. He said yes 20 minutes.
The insurance guy practically ignored us so I was taken back to the main compound and my fixers talked to a policeman there. Things started to look up. This was being taken seriously and if my fixers were in a scam they would not be talking to the police.
Another policeman turned up who turned out to be the chief, I was whisked into his office and asked to explain the problem. They spoke no English but I seemed to have enough French to make myself understood, I had to write down numbers over 10 though. During this conversation, I told them I was asked to pay "a cadeaux" (tip/bribe) to mon ami, the policeman who acted as my fixer originally, I did not mind this at the time but was now suspicious he may have been in on it.
After a while, the insurance guy was brought in, he seemed keen to refund me now. But the chief wanted all the facts first.
Next mon ami was brought in, he seemed to get a roasting from the chief and was made to repay the tip i gave him.
Next seemed to be the boss of the insurance guy, eventually I was given back all my money minus 5,000 which is what the insurance should have cost.I had to write down the problem was resolved and was taken to another office to sort out the missing stamp. I am still not sure what the problem was here and how a missing stamp on my passport on the other side of the river could be resolved, but it was.
Then another man appeared in long white robes, I was told he was the chief of the border post, the top man. Everything was explained to him, he then told the insurance guy to give me all of my money including the 5,000 so i effectively had free insurance. The scammer had the cheek to object but had the good sence to know he was beaten.
I was then asked to write in English AND French a disclaimer saying all was resolved and then given a police escort back to ferry, fixers in tow.
On the other side, we waited till 3.30, got my visa and all was done, I could get my bike and go!… or not!
First a man at the barrier where my bike was parked wanted "a cadeaux"; for looking at my papers! No way, i refused and grabbed my papers off him, i did give some money to the guy who guarded my bike (unasked for but appreciated).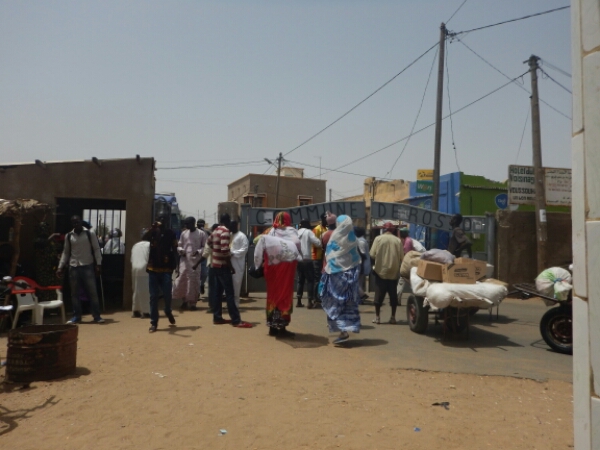 I was off….. No, now i had a puncture in my front tyre, it turned out a previous repair patch had blown in the sunshine, this was fixed with the help of "monsiour Michelin" who had a stall about 100m into Senegal.
True to my word, I gave my fixers half the insurance money returned to me 30,000 mauritanean, about £60. A lot but I had another £60 in my pocket that would not have been there without their help. They told me that the insurance scammer had been arrested as this is the third time he had done this. As a paying aside, they did ask for another 3,000 for some fee they had apparently paid for me. I just said "cest beacoup" and refused.
And that was it, I am in Senegal, camped near St Louis, having completed what should be the worst part of my journey, now looking forward to one of the best parts.