My first sight of the UK was the Isle of Wight in the distance. I am from Southampton so I know the area well. It was a real homecoming feel to sailing around the island and into Portsmouth Harbour.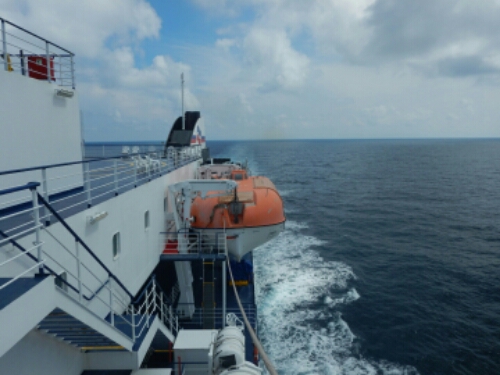 In the harbour were 3 Royal Navy type 45 destroyers. I wrote some of the secure email software running on those things when I was on contact to BAE systems many years ago.
The ferry unloading went smoothly and the 5 hour run back home was in good weather, although I did put some extra layers on for warmth.
It was a great feeling arriving home. I am proud of what I have done, it wasn't to plan but then the plan has constantly changed from when I first decided to do this. The original goals of riding a bike to far off places and to meet people in their normal living environment were definitely achieved.
Over the next few days I have a lot of things to do to restart my life at home and to repair the bike. I will not blog daily but occasionally update with equipment reviews and follow ups. I will also be cleaning up a lot of blog entries and adding lots more photos.
Wales, United Kingdom