Distance: 380km
I started the day unsure of where I would finish. The Michelin paper map showed an unpaved road between Bougoni in Mali and Kankan in Guinnea but neither Google Maps not Openstreetmaps said it was a complete road. They showed a gap and no route through. Internet searches gave no mention of a border post there. I decided to get to Bougouni and ask a local. If no joy then I would have to take a much longer route and stop overnight in Bomako, Mali.
The local turned out to be the local gendarme who assured me the route was possible but only by motorbike, not by car. So off I went.
The road eventually turned into a track (not wide enough for a car) before eventually widening out again into a rain washed out dirt road. I definitely would not like to be on that road after heavy rain and I would guess the road is closed during the rainy season because I crossed several dried up rivers.
I eventually reached a village with a flag flying above one of the huts and a man waved me down; this must be Guinea. A policeman copied my details into a book and pointed out customs, a hut on the other side of the road. There I got a Lassai passer for the bike. I was then told to continue for 35km to a village called Mandiana to get my passport stamped. It was about now I realised I had not seen a border post on the Mali side so had no exit stamp. I think I am still officially in Mali as well as in Guinea.
The next 30km was on dirt roads but every now and again the loose gravel got deeper. Deep gravel is horrible to ride on; the front wheel goes where the ruts take it and if you try to turn the wheel it beds into the gravel and over you go. I fe─║l off several times on this stuff.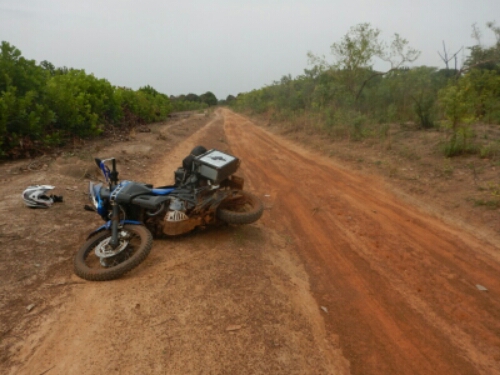 I soon learnt to keep low speeds with the clutch in and let the bike roll through it. The locals were wizzing past me at these points with their back wheels dancing crazily left and right as they went.
I eventually came to a river crossing. The ferry consisted of two small boats lashed together with cross planks and wooden ramps to get aboard. After seeing a crazily loaded car come across i felt a little better about its load carrying ability. The experience getting off the barge was worse than getting on. I had minders either side to keep me vertical but the one on the right nearly let me fall. My feet could not touch the ground half on the barge and half on the ramp. Eventually I was vertical and went for it. I still don't know how but I was on terra firma again.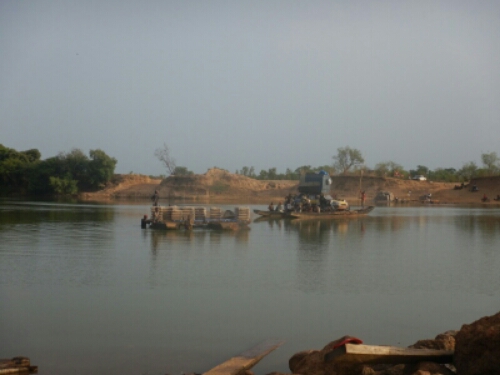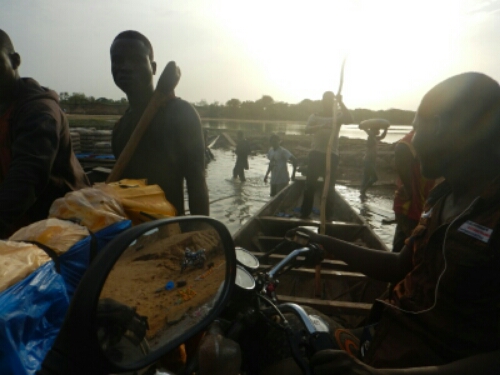 It was getting late and guessed the police office would be closed or would charge extra to stamp out of hours I decided to camp. It was then I realised how many locals I had seen carrying rifles. They were hunters, yes I am sure they must be, I also remember seeing UNHCR signs and tents on the Mali side. … ummmm…..
Several km later I found a petrol station and the guys here allowed me to pitch my tent for the night. A man in military fatigues and with an automatic rifle has been looking after me and the petrol pumps last night so I slept soundly.
I am about 1km from the village where I get my passport stamped and then on to Kankan and then Conakry.
There is one blip on the horizon. I am not sure yet but there may be a problem with the bike steering head bearings. The steering is starting to feel a little notchy. Something I will need to keep an eye on.