Having read many other experiences of different bikes, my initial leaning toward the BMW 650GS has changed. The BMW seems to be pretty bullet proof but when things do go wrong it gets very expensive very quickly. I have read reports of electrical issues, waiting for parts, difficult diagnostics etc. The other issues are the high value of the bike which effects the cost of the carnet and the weight of the bike and tool kit needed.
The other favourites seem to be the Suzuki DR650 and the Yamaha XT600 or newer XT660. As I am in the UK, and the DR650 is not sold here, I will probably go for the Yamaha so I have a better selection of bikes to choose from.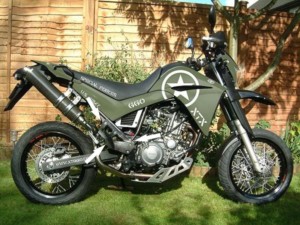 Getting a carnet looks like a major expense. They are only available from the RAC in the UK and are very expensive. They act like a passport for the bike entering and leaving a country and avoid you paying import duties and taxes. It may be possible to get one from Germany much more cheaply but I have read conflicting opinions on that.
Whatever I get, it will need some prep work such as uprated shocks, panniers and carriers, fitting inner tubes etc. Doing this work will be part of the fun and will allow me to get intimate with it mechanically before I leave. I would imagine I will be spending a lot of time on the road maintaining and fixing the bike.